Tour duration: 7 days/ 6 nights
tour program Period of visit: April-November
Trekking, extreme & coach trip/ Ethno-archeological & historical tour
Itinerary: Nukus-Kungrad-Usturt Plateau-Shudochie Lake-Aral Sea-Muynak-Mizzdakhan (Khodjeyli)-Gyaur kala-Nukus-Ayaz kala-Khiva
MOSCOW-NUKUS
Day 1 (Mon) Arrival Nukus by flight HY-626 at 19:15PM. Meet and transfer to the hotel for rest and check in.
Dinner at Sheraton restaurant
NUKUS-KUNGRAD-USTURT PLATEAU - SUDOCHIE LAKE - ARAL SEA (500km - 8hrs)
Day 2 (Tue) After breakfast, depart Nukus, at 8 o'clock, to do the Discovery of the Usturt Plateau and Aral sea life. First we pass Kungrad district one of the Trading Centers during the Silk Road period. Then, drive to the Usturt Plateau. On the way, stop at the Lake Sudochie, have lunch at fishermen's house. Continue driving to the Aral sea. On the way, visit the former Light House; see the settlement of the gas plant. Stop to take pictures of beautiful Canyons and the collapsed land. Arrive to the Aral Sea. Set up the tent. Have dinner. Overnight at the tent
Breakfast at hotel. Lunch at fisherman's. Dinner at the Aral Sea in tents.
Nature of Usturt Plateau Canyons The Aral Sea
ARAL SEA-MOYNAK-MIZDAKHAN-GYAUR KALA - NUKUS (420km - 6hrs)
Day 3 (Wed) Early wake up, in order to take picture of the sunrise. Have breakfast. Drive to Moynak. Drive on the dried bottom of the Aral Sea, pass the gas towers, arrive to Uchsai -Gas Plant. Have lunch. Visit the Ships' graveyard, local museum, walk around the town. Drive back to Nukus. On the way, visit Mizdakhan Architectural Complex (XIV century) in Khodjayli and Gaur Kala destroyed by Chingiz-khan. Arrive in Nukus and visit Savitskiy Museum. Overnight at hotel.
Breakfast at the Aral Sea. Lunch in Uchsai. Dinner at local restauraunt.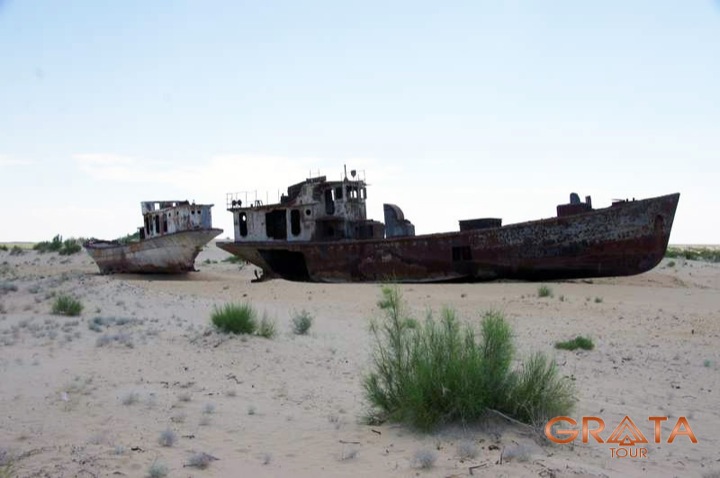 Muynak Savitskiy Museum Mizdakhan-Nazlimkhan sulu
NUKUS-AYAZ KALA (120km)
Day 4 (Thu) After breakfast, drive to Ayaz Kala yurt camps. This day you will have splendid opportunity to visit ancient citadels. On the way, visit Chilpik Kala (II-IV centuries AD), Kyrk Kyz Kala (I-II & XII-XII centuries AD), Guldursun Kala (IV-III century BC to XII-XIII century AD), Koikirilgan Kala, Janbas Kala (IV century BC - I century AD)Kizil Kala, Toprak Kala (I-IV centuries AD) and Ayaz Kala citadels (IV-II centuries BC). Overnight in yurt camps in Ayaz Kala
Breakfast at hotel. Lunch en-route (lunchbox). Dinner at Yurt Camps.
Chilpik Kala Ayaz Kala Kizil Kala
AYAZ KALA - KHIVA (120km - 2hrs)
Day 5 (Fri) After breakfast, have half day free time in Ayaz Kala. After lunch, drive to Khiva, on the way, visit the rest citadels. Continue driving to Khiva, upon arrival, transfer to the hotel for check in. Overnight at hotel
Breakfast at yurt camps. Lunch at yurt camps. Dinner at local restaurant.
KHIVA
Day 6 (Sat) Full day free for own explore. Afternoon, visit Ichan Kala sights - Mausoleums of Pakhlavan Makhmud (XIV-XVI centuries), Said Alauddin (1303 year), Uch Avliyo ("Three Saints' mausoleum" - XVI-XX centuries) and Yunus Khan (1558-1559 years), Madrasahs of Arab Muhammad Khan (1616-1834 years), Madrasah of Muhammad Rakhimkhan, Muhammad Amin, Kutlug Murad-inak, Abdullakhan, Madrasah and Minaret of Islam Khodji, Kalta Minor, Kunya-Ark citadel ("old fortress" - XVII century), all the gates and walls of Ichan Kala, including Palvan-darvaza, Ata-darvaza, Tash Khauvli Palace, Nurullabay Palace and Juma mosque together with minaret (where 212 columns, you can see). Overnight at hotel
Breakfast at hotel. Lunch at local restaurant. Dinner at local restaurant.
KHIVA-URGENCH(30km) - MOSCOW (by flight)
Day 7(Sun) After early breakfast transfer to Urgench airport for flight to Moscow by HY-615, leaving at 06:35AM.
Early breakfast at hotel.
Prices for tour package in U$ per person

FIT

1 pax in single

2 pax

3 pax

4 pax

5 pax

6 pax

7 pax

8 pax

9 pax

Based on double

1395

833

888

742

655

683

628

590

611

Single supplement per person (No single accommodation in Tents and Yurt camps)

34 (Only for the hotels in Nukus & Khiva)
| | |
| --- | --- |
| Cities/Place's name | Hotels |
| Nukus | Jipek Joly**/Nukus** |
| The Aral Sea | Tents (for two pax) |
| Ayaz Kala | Yurt camps (up to 8 pax) |
| Khiva | Sabir Arkanchi 2*/ Arkanchi 2* |
Price includes:
Hotel accommodation;
Full board (from dinner on D-01 till breakfast on D-07);
Transport: A/C Toyoto Jeep (in Aral part Moscow; only) on A/C "Nexia" up to 2 pax, on A/C van "Grand Starex" up to 5 pax, on A/C "Tayoto Hiance" up to 9 pax,
English/Russian speaking escort guide;
Entrance fees according to the program given above; porters, etc;
Mineral water during the transfers and excursion (5 liters per day per person);
Equipment: Tents, sleeping bags, cooking utensils are used in Aral Sea part;
Price does not include:
Airfare of flight Moscow-Nukus and Urgench- Moscow;
Visa support letter (LOI)
Consular fee in Uzbek Embassy;
Fees for additional services in the hotels eg. Mini bar, drinks, laundry, etc.;
Tips to local staff eg. guides, bellboys, porters, etc;


Extra service:
Visa support letter fee - 25 U$ per person;

NOTE:
1. We included Full Board to the tour package, because restaurants or cafe are not available in Aral and Muynak.
2. Only Toyoto Jeep is used in Aral Sea part of the program (Days 2 & 3). From Day 04 until Day 07, Nexia, Grand Starex and Toyoto Hiance are used depending on tourists' number.
For 2 pax - 1 Toyoto Jeep;
For 3 pax - 2 Toyoto Jeeps;
For 4 pax -2 Toyoto Jeeps;
For 5 pax - 2 Toyoto Jeeps;
For 6 pax - 3 Toyoto Jeeps;
For 7 pax - 3 Toyoto Jeeps;
For 8 pax - 3 Toyoto Jeeps;
For 9 pax - 4 Toyoto Jeeps;
3. Please, take into consideration that you will have to drive very long distance during this tour, from 200km till 450 km per day. Conditions are very extreme. The main part of the road consists of off-road and track. Overnight in tents and dinner is arranged on a campfire at the Aral Sea.
4. It's necessary to have water-proof warm clothes, water-proof trekking shoes (desirably), sun-glasses and head gear (cap etc.).
5. Please, take your medicines if you need some.
6. Distance from Nukus to Nukus consists of 800-850km.
Cancellation fees:

1. Cancellation 30 days prior to the date of arrival - no charges applied
2. Cancellation 15 days prior to the date of arrival - 50 % charge of the tour price
3. Cancellation 7 days prior to the date of arrival - 100 % charge of the tour price
Prices for tour package are given for 2012 and valid until December 31, 2012.
SUBJECT TO CHANGE